Looking for properties for sale in the Costa Blanca North?
Maybe in areas like Cumbre del Sol, Javea, Moraira, Benissa, Calpe, Denia, Benitachel, Oliva, Benidorm, El Campello, Finestrat.
Here you have a small selection of properties for sale in the North Costa Blanca.
You can get in touch with us by mail:
sales@spanishbest.com
Our available land line: 0034 968 80 84 25.
Or by messaging: 0034 648 503 971.
Spanish Best Homes, a fresh and honest approach to our customers.
See Property Region:Costa Blanca NorthTown:FinestratType:ApartmentBedrooms:2Price:189750 €Description:These luxury apartments are located in Finestrat, and have views to the sea and to the Benidorm Skyline. You have the choice between 2 and 3 bedroom apartments. They all have 2 bathrooms. Special a …
See Property Region:Costa Blanca NorthTown:DeniaType:ApartmentBedrooms:2Price:175000 €Description:Last 3 penthouse available on this New Modern luxury residential with high quality apartments built near the beach and promenade in Denia, Las Marinas, right at the entrance offering a great beach loc …
See Property Region:Costa Blanca NorthTown:BenidormType:ApartmentBedrooms:2Price:315000 €Description:Residential estate with "Resort Hotel" communal leisure and recreation areas – an outstanding investment opportunity. from €290.000 Sunset Waves has an avant-garde design with a touch of …
See Property Region:Costa Blanca NorthTown:FinestratType:ApartmentBedrooms:2Price:169000 €Description:ALEGRIA VILLAGE BENIDORM RESORT. Our new project in Finestrat built on a plot of 13.200 m2. The project consist in 52 luxury houses: 8 groundfloor bungalows with 2 bedrooms and 2 bathroms; 8 bungalows …
See Property Region:Costa Blanca NorthTown:MorairaType:ApartmentBedrooms:3Price:488000 €Description:Blue Infinity is situated within the Cumbre del Sol residential estate, in the coastal town of Benitachell, a few kilometres from Javea and Moraira, in the north of the Costa Blanca, halfway between V …
See Property Region:Costa Blanca NorthTown:BenidormType:ApartmentBedrooms:3Price:195000 €Description:ALEGRIA VILLAGE BENIDORM RESORT. Our new project in Finestrat built on a plot of 13.200 m2. The project consist in 52 luxury houses: 8 groundfloor bungalows with 2 bedrooms and 2 bathroms; 8 bungalows …
See Property Region:Costa Blanca NorthTown:FinestratType:ApartmentBedrooms:2Price:175000 €Description:This is a unique project in the market where the Bungalows are joined in only one side. It consists of 44 ground floor with garden and top floor with solarium bungalows with sea views and private par …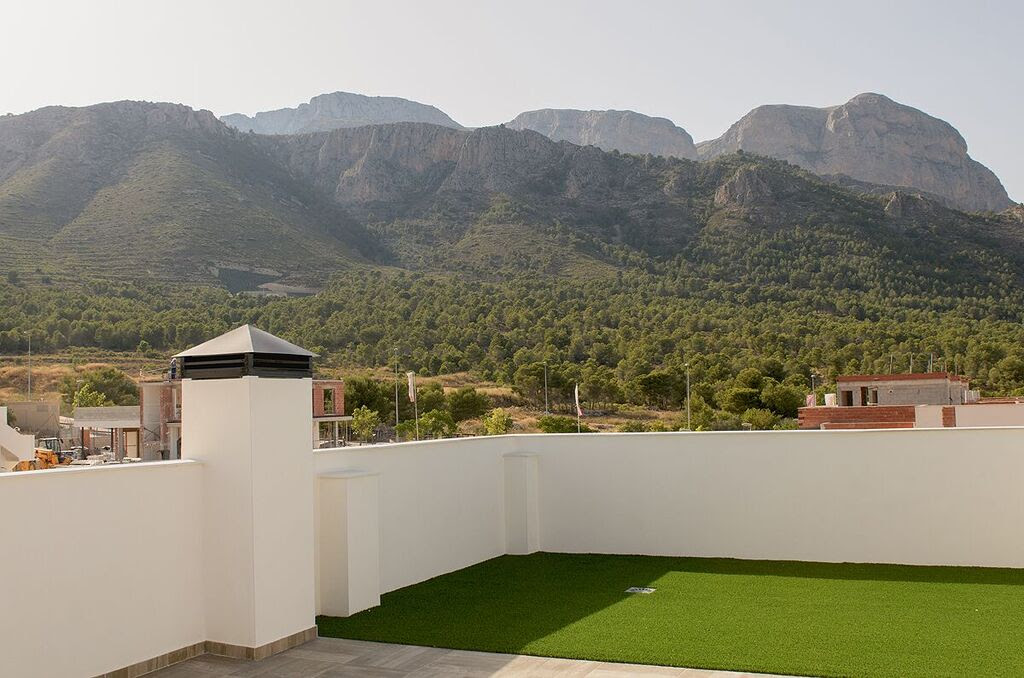 See Property Region:Costa Blanca NorthTown:PolopType:ApartmentBedrooms:2Price:175000 €Description:Beautiful new development of bungalows (apartments) and semi detached villas with lovely mountain and sea views. Close to all amenities (commercial center only 500M away from the residential . Choice …
See Property Region:Costa Blanca NorthTown:CalpeType:ApartmentBedrooms:0Price:280000 €Description:Modern homes with sea views Relaxation and quality living by Arenal-Bol Beach, Calpe. This is a unique residential complex that boasts impressive views of the sea and Peñon de Ifach ( …
See Property Region:Costa Blanca NorthTown:CampelloType:ApartmentBedrooms:2Price:253000 €Description:Campello Parque Central is a unique place to live in all year round. With all amenities nearby and just a few minutes walk from the town centre and the beaches. The best of the town, but in a quiet re …
See Property Region:Costa Blanca NorthTown:FinestratType:ApartmentBedrooms:2Price:189750 €Description:These luxury apartments are located in Finestrat, and have views to the sea and to the Benidorm Skyline. You have the choice between 2 and 3 bedroom apartments. They all have 2 bathrooms. Special a …
See Property Region:Costa Blanca NorthTown:FinestratType:ApartmentBedrooms:2Price:225000 €Description:We would like to inform you about a 2-bedroom apartment in Los Altos de Sierra Cortina, now for sale for 225.000 € parking place and a storage room included in the price. …
See Property Region:Costa Blanca NorthTown:BenissaType:ApartmentBedrooms:2Price:152461 €Description:2 bedroom beautiful ground floor apartment for sale in urbanisation Cumbre del Sol in Benissa. The property enjoys a private garden, nice front porch, 2 double bedrooms, 1 full bathroom, nice size lou …
See Property Region:Costa Blanca NorthTown:BenissaType:ApartmentBedrooms:2Price:290000 €Description:Model Planta Baja, this apartment for sale in at the Cumbre del Sol urbanization, a seafront residential estate within the municipality of Benitachell, between Javea and Moraira, on the North Costa Bl …
See Property Region:Costa Blanca NorthTown:CalpeType:ApartmentBedrooms:2Price:218000 €Description:Fantastic apartments in Calpe, 400 meters to the beach only, walking to all amenities and services, lovely views from every apartment, high qualities and excellent services in the residential estat …
See Property Region:Costa Blanca NorthTown:FinestratType:ApartmentBedrooms:2Price:211000 €Description:Shining homes with spectacular views over Benidorm, close to golf, shops, amenities, theme parks and much more. Discover luxury homes with views to a beautiful horizon, the Mediterranean Sea. Designe …
See Property Region:Costa Blanca NorthTown:BenidormType:ApartmentBedrooms:3Price:336000 €Description:Luxury apartment in Benidorm, Alicante. The property consists of 3 bedrooms (one of which en-suite) and 2 bathrooms. Also the property has a large dining-living room, american kitchend and terrace of …
See Property Region:Costa Blanca NorthTown:BenidormType:ApartmentBedrooms:3Price:282000 €Description:New build apartment in Benidorm, Alicante. The property consists of 3 bedrooms (one of which en-suite) and 2 bathrooms. Also the property has a large dining-living room, american kitchend and terrace …
See Property Region:Costa Blanca NorthTown:BenidormType:ApartmentBedrooms:3Price:344000 €Description:New build apartment in Benidorm, Alicante. The property consists of 3 bedrooms (one of which en-suite) and 2 bathrooms. Also the property has a large dining-living room, american kitchend and terrace …
See Property Region:Costa Blanca NorthTown:AlteaType:ApartmentBedrooms:3Price:580000 €Description:. Luxury penthouses with spectacular sea views in Pueblo Mascarat, Altea. Homes with 3 bedrooms and 3 bathrooms with large panoramic terraces overlooking the Mediterranean Sea. Located in a quiet area …
See Property Region:Costa Blanca NorthTown:AlteaType:ApartmentBedrooms:2Price:330000 €Description:. Luxury apartments with spectacular sea views in Pueblo Mascarat, Altea. Homes with 2 bedrooms and 3 bathrooms with large panoramic terraces overlooking the Mediterranean Sea. Located in a quiet area …
See Property Region:Costa Blanca NorthTown:FinestratType:ApartmentBedrooms:2Price:235000 €Description:The residential is located on the slopes of Sierra Cortina, in the municipality of Finestrat, from where the bay of Benidorm dominates, offering privileged views of the Levantine dawn and all the life …
See Property Region:Costa Blanca NorthTown:FinestratType:ApartmentBedrooms:2Price:231500 €Description:The residential is located on the slopes of Sierra Cortina, in the municipality of Finestrat, from where the bay of Benidorm dominates, offering privileged views of the Levantine dawn and all the life …
See Property Region:Costa Blanca NorthTown:FinestratType:ApartmentBedrooms:2Price:211300 €Description:The residential is located on the slopes of Sierra Cortina, in the municipality of Finestrat, from where the bay of Benidorm dominates, offering privileged views of the Levantine dawn and all the life …
See Property Region:Costa Blanca NorthTown:BenidormType:ApartmentBedrooms:3Price:515000 €Description:Apartment located in the most exclusive area of Benidorm. The city is located on the shores of the Mediterranean Sea and is renowned for its skyscrapers. Benidorm has all the amenities like: supermark …
See Property Region:Costa Blanca NorthTown:BenidormType:ApartmentBedrooms:3Price:414000 €Description:Apartment located in the most exclusive area of Benidorm. The city is located on the shores of the Mediterranean Sea and is renowned for its skyscrapers. Benidorm has all the amenities like: supermark …
See Property Region:Costa Blanca NorthTown:BenidormType:ApartmentBedrooms:2Price:372000 €Description:Apartment located in the most exclusive area of Benidorm. The city is located on the shores of the Mediterranean Sea and is renowned for its skyscrapers. Benidorm has all the amenities like: supermark …
See Property Region:Costa Blanca NorthTown:El CampelloType:ApartmentBedrooms:3Price:88000 €Description:New listing located in El Campello, Alicante. Great second floor apartment available in the center of town, with 3 good size bedroom with fitted wardrobes, one of the bedrooms overlooking a sunny balc …
See Property Region:Costa Blanca NorthTown:FinestratType:ApartmentBedrooms:2Price:198000 €Description:Finestrat is just a few minutes drive from major cities such as Benidorm, Alicante, Villajoyosa, San Juan, Altea and Calpe. This area has an exceptional climate all year round with an average annual t …
See Property Region:Costa Blanca NorthTown:AlteaType:ApartmentBedrooms:3Price:1700000 €Description:Model APART 9 planta 3 . Each property has a total of three bedrooms, two double bedrooms equipped with large fully fitted wardrobes and each with a spacious en-suite bathroom, complete with shower an …
See Property Region:Costa Blanca NorthTown:BenitachellType:ApartmentBedrooms:2Price:182000 €Description:Model edurne pl.alta central with 2 bedrooms, 2 bath