Torre de la Horadada is a coastal resort located on the Southern Costa Blanca with some fine sandy beaches which are ideal for families with children who have come to spend their summer holidays.
There are two airports close to Torre de la Horadada which are Alicante and Murcia.
Once at the airport you have a range of different airport transfer options to Torre de la Horadada including private shuttle buses, taxis or car hire.
Torre de la Horadada
In this tourist guide to the tourist resort of Torre de la Horadada on the Orihuela Costa on the Costa Blanca in Spain we help visitors who are planning a trip with useful and practical advice on many tourism related subjects such as car hire, accommodation, hotels, hostels, map, sightseeing, where to go, where to stay, travel information and what to see and do in Torre de la Horadada.
Torre de la Horadada is your typical Spanish sea side resort with villas, townhouses and apartments located on urbanisations, purpose built for people to buy their second homes to contribute to the tourist industry and Spanish economy. You can always find a property to buy or rent on a long term basis or by the week, during peak times.
Map – Where is Torre de la Horadada?
Torre de la Horadada came to be is a natural offshoot to the sprawling resort of neighbouring Pilar de la Horadada. Torre de la Horadada lies to the north of the Mar Menor, and is also close to Torrevieja, La Zenia, Mil Palmeras, Cabo Roig, Campoamor, Playa Flamenca and Punta Prima. If you have hired a car then you can visit many different beach resorts and make the most of the beach life on the Southern Costa Blanca.
Sights & Attractions
Although one of the lesser known of the Costa Blanca's seaside resorts, Torre de la Horadada is also one of the prettiest of the southern resorts with attractive coastline and seafront walks as well as a charismatic watch tower dating from the time when pirates sailed these seas, numerous sandy beaches, sunny weather and a delightful marina with plenty of mooring space.
Despite the age of its tower, Torre de la Horadada has mostly developed during recent times, with the demand for coastal holiday homes growing and it really acts as the coastal arm of nearby Pilar de la Horadada, which as a town is set inland from the coast.
Very close to the border of Alicante and Murcia, Torre de la Horadada together with Pilar de la Horadada and El Mojon is one of the Costa Blanca's southernmost resorts, head any further south and you will find yourself on the Costa Calida and the resorts of the Mar Menor, a little further and you will reach the city of Cartagena with its ancient Roman and Carthaginian ruins.
Torre de la Horadada is essentially a small Spanish town without the tall buildings filled with apartments which cover much of the Costa Blanca.
The Old Town has a square and a church. You will find there is a chemist, bank, three supermarkets and a good selection of restaurants offering tapas, Spanish food, sea food and some international cuisine.
Golf
Keen golfers will find there are quite a few famous and popular golf courses in the area including Las Ramblas, Villamrartin, Campoamor, Campoverde and Lo Romero.
Weather
Torre de la Horadada weather has a Mediterranean climate meaning that there are three hundred days of sunshine annually, a guarantee of no rain in the summer months, and mild winters with a little rainfall.Weather Forecast | Weather Maps | Weather Radar
Beaches
The beach at Torre de la Horadada you will find all the amenities of a first class sea side resort with sun loungers and parasols for hire, a play area for children, foot showers and WC.
The video below shows you the main sights and beaches:
Getting There – Transfers
Torre de la Horadada is a great place for a holiday or a last-minute weekend break. Most visitors to Torre de la Horadada Spain will no doubt be arriving at Alicante Airport (or maybe Murcia San Javier airport) – so having arrived at Alicante airport how do you get to Torre de la Horadada and how do you find the cheapest way of getting to your Torre de la Horadada accommodation from Alicante Airport?
Here we answer your frequently asked questions:
How much is the taxi fare from Torre de la Horadada to Valencia?
Are there coach transfers from Alicante to Torre de la Horadada?
What is the nearest Torre de la Horadada airport?
Alicante to Torre de la Horadada transfers
Is there a bus from Alicante airport to Torre de la Horadada?
Getting to Torre de la Horadada from Alicante airport?
Is there a bus from Murcia airport to Torre de la Horadada?
How much is a shuttle Alicante airport to Torre de la Horadada?
Torre de la Horadada Spain nearest airport?
How much by bus from Alicante airport to Torre de la Horadada?
Torre de la Horadada to Alicante how far?
Bus from Torre de la Horadada to Valencia?
Can I get a transfer direct to Torre de la Horadada from Alicante airport?
How long will it take to travel from Alicante airport to Torre de la Horadada?
How to get from Murcia airport to Torre de la Horadada?
Is there a train from Alicante to Torre de la Horadada?
The nearest Torre de la Horadada airport is Alicante airport but also San Javier Murcia Airport is not too much further to the south of Alicante airport and it now has many cheap flights as Ryanair fly there (amongst others).
If car hire isn't for you then you will have to look for other means to reach your holiday resort. The Costa Blanca is known not to have much of a transport service, meaning there is a lack of buses or trains conveniently linking Murcia with Torre de la Horadada or Alicante with Torre de la Horadada.
This can prove to be a problem for those people who have booked an apartment or villa but there are always other options.
Well there are three main ways of airport transfers from Alicante to Torre de la Horadada:
Taxi to Torre de la Horadada. Taxi fares which are the simplest but most expensive can cost around €90 for driving you from Alicante to Torre de la Horadada. One just has to remember that you will be paying that again on your day of departure.
Getting a taxi from Alicante airport to Torre de la Horadada is a good option because there are unlimited airport taxis at all times of the day (and night) directly outside the doors of the arrivals terminal at Alicante airport.
You won't have to wait around as you would with a bus and it will take you directly outside your hotel, villa or apartment in Torre de la Horadada.
Private Shuttle to Torre de la Horadada
Shuttle transfers are becoming more popular especially if once you are at the resort you can walk anywhere and everywhere and there is no reason to leave the resort as the beaches and infrastructure are that fabulous. Of course you will have to compare companies and rates but as a guide you can expect to pay around £66 pounds sterling for a family of four with all of their luggage for a return transfer from Alicante to Torre de la Horadada.
Pre-booking a private shuttle bus from Alicante airport to Torre de la Horadada will get you a much cheaper rate than taking a taxi on arrival. As with a taxi, a private shuttle takes you directly to your Torre de la Horadada hotel or apartments in Torre de la Horadada. The size of vehicle varies from small mini-buses to coach transfers to Torre de la Horadada.
If however the shuttle is shared by many other passengers going to Torre de la Horadada hotels, it may not be as quick or direct as a taxi. A company called Shuttledirect.com are very reputable and cheap.
Torre de la Horadada Car Hire
Hiring a car from Alicante airport to get you to Torre de la Horadada is a great idea if you also want to explore the fantastic Costa Blanca area of Spain. Car hire from Alicante airport is very cheap so it could be a good option even if you don't intend to use the car much.
Torre de la Horadada is very much a compact beach resort with usually plenty of bars, restaurants and beaches within walking distance, so unless you want to go on a number of excursions you probably don't need to consider taking out Torre de la Horadada car hire.
Real Estate Agents
Whether you're looking for a place to rent or to stay at permanently, you can take advantage of the services from the real estate agents in Torre de la Horadada who are more than willing to help you in finding your ideal residence.
You can contact Spanish Best Homes: www.spanishbest.com
0034 968 80 84 25
It is the relaxing, magnificent blue flag beaches, not overcrowded even in the summer, all sort of services and only 10 minutes from the airport.
How much are typical property prices in Torre de la Horadada for apartments, villas etc?
You can find 1 bedroom properties from 75,000 euros, 2 bedroom properties for around 100,000 euros, 3 bedroom apartments and town house from 125,000 euros and finally villas from 200.000 €.
Eating, buying and leisure
Firstly, if you need to buy a lot of things, either for a barbecue or a picnic, you have to go to Dialprix (which used to be Super Valu), located at the entrance of Torre de la Horadada.
On the other hand, if you want to eat out, most restaurants and ice cream shops are located in Plaza del Pueblo Latino and the square near the Port.
The Plaza del Pueblo Latino is also a small shopping arcade which consists of bars, bakeries, ice cream parlours and two mini supermarkets. In the centre, there is a mini square with benches and water fountains, giving a nice touch to the area.
On the other hand, the other square is a few meters from the Pueblo Latino, which is a lot bigger. It is located right between the Church of the Assumption and the watchtower and the Port. The highlight of the square is the terraced restaurants which are always full of people, especially 'Guiri's (even in winter). There is a road that runs along one side of the square, but in general it is pedestrianised. In the centre of the square, there are benches, trees and a water fountain. There are also little horses for children, and in summer, a waffle and crepe stand which normally always has a queue.
In one of the streets that goes from the square to the beach, there are two ice cream parlours and Bar Willy. The Galán ice cream parlour is the most famous in the town, thanks to its unique flavours, I would recommend the cookie ice-cream or the chocolate crepe ice-cream. Right next door is an Alicante ice cream shop, and I always get the nougat ice-cream because it is so yummy!
The two ice cream parlours have terraces that extend onto the promenade, boasting great views of the beach, the port and the lookout tower. So I recommend you go there for a beer and some 'patatas' in the afternoon, or during the evening for a good ice cream and milkshake, I love it. Although there are times when the tables are full and have to wait or take the ice cream away; another option is that you sit on the banks of the promenade with your ice cream or eat it whilst walking… but you save some money taking it away rather than sitting at the parlour.
From there, you can turn right and walk right along the promenade which is really nice. There are benches to sit every few meters and some sweet and ice cream stalls. During the night, it is usually full of teenagers.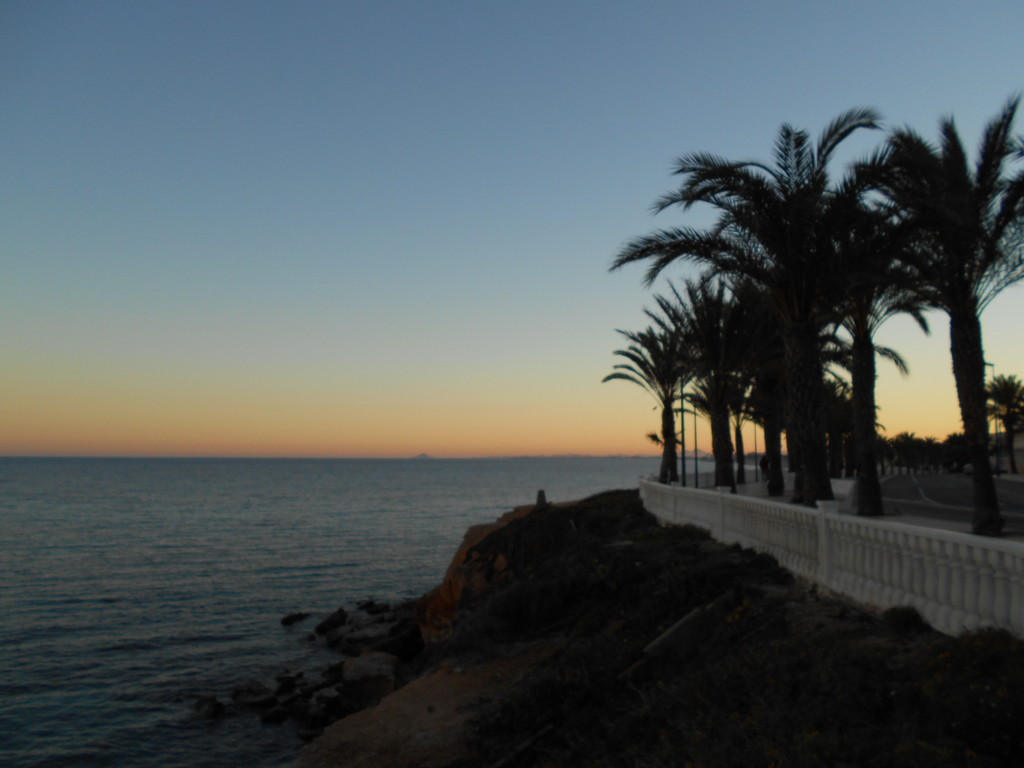 With regard to other leisure activites, I know that they are two summer cinemas, one in Las Villas and the other just next to the Plaza. They are only in use in July and August.
Beaches of La Torre de la Horadada
To me, La Torre de la Horadada is one beach, which is split up into smaller beaches. Going from left to right, here are the names of the beaches.
Playa del Gato: this is just down from Plaza del Pueblo Latino. It is divided into two parts, but it is not very wide. It has a beach bar too. It was at first the most popular beach but it has since been beaten by Playa del Conde.
Playa de los Jesuitas: this beach is definitely for younger people. During summer afternoons, groups of teenagers and young people get together here, especially to play volleyball there. It also has a beach bar and you can hire scooters from here, if I'm right, I think they cost 15 euros for half an hour/one hour. It is one of my favourite beaches, but sometimes there are too many people there.
Playa del Conde: this is the beach I like the most at the minute. It is a large cove, situated below the tower. It has a beach bar and there is a rocky patch on the sea front which is popular with small children to catch small crabs. People who stand on these rocks look like they are walking on the sea, it has always made me laugh! Right next to here, there is a mini beach but there is nothing to do there so I don't like it that much.
Playa del Puerto: as its name indicates, this beach is located next to the port. The beach is big, and not too busy. It has a play area for children and they have football competitions there in the summer. What stands out is the patch of rocks which are located right at the start of the beach, some are painted in different colours which gives a picturesque touch to the panorama of this beach.
Playa de las Villas: it is located in the las Villas area but I don't know anything else about it.
Playa de las Higuericas: this is the longest and widest beach. usually, not many people go there because it is the furthest away from the centre of the town. But I recommend you go there for a walk at sunset, it is quite beautiful and quieter than the centre of town.
As a coastal town it has experienced a great deal of its fortune thanks to tourism and boasts various prestigious blue flag beaches, the most popular being Los Jesuitas, El Conde, and El Puerto. These local beaches are well known for their fine sand and crystal waters. Its popularity during the busy summer months means that the town's population can quadruple in size with many visitors coming from other parts of Spain, mainly Madrid and Murcia to enjoy their summer residences.In recent years Torre de la Horadada has become the home to many expatriate residents form northern Europe, mainly from the UK and Ireland. This has led to the all year round sustainability of the town, which has resulted in the advent of new local business and amenities such as supermarkets, bars, restaurants and the construction of a new, and modern tourism complex Lo Monte.During the Spanish boom years of the first decade of the 21st century Torre like many other Spanish coastal towns saw an increase in the construction of homes, however in contrast to most other local towns this expansion was characterized for being steady and controlled which has safeguarded its appearance and the wellbeing of its residents. As a result, Torre has bucked the national trend for the demand of housing and still continues to have a number of construction projects currently in place, and although house prices have significantly reduced compared to the boom years they still favor considerably in relation to the national trend.
Spanish Best Homes offers a great range of properties for sale in Torre de la Horadada together with a friendly staff with great knowledge of the area.
Make an appointment with us and we will assist you personally:
LO PAGAN
Lo Pagan is situated on the north shore of the Mar Menor and has merged with San Pedro del Pinatar to become one big town. Lo Pagan has a beautiful beach, promenade and small marina. During the summer months there is a lively funfair beside the marina which adds to the seaside atmosphere.
Lo Pagan is most famous for its mud baths. These are free, which is great news if you have a large family to keep occupied. All ages can use the mud baths from 1 to 100, but only the truly hardy indulge during the winter months. The mud baths are located at the end of the beach and the start of the salinas walking and cycling route out to sea. Simply walk down the steps, cover yourself with the therapeutic mud, said to be good for all types of skin complaints, aches and pain, dry off in the sun, then re-enter the water to wash it all off!
Places of interest & ideas of things to do in Lo Pagan
Beach: long and sandy.
Promenade: long and paved, joins into the mud baths and salinas walking and cycling route.
Marina: small.
Children's Funfair: opposite the marina open during summer months only.
Mud Baths: treat your skin!
Salinas Walking & Cycling Route: out into the Mar Menor.
Ideas of places to twin Lo Pagan with day or night
Twin a visit to the information centre in San Pedro del Pinatar with a trip to the marina and then drive the short distance to Lo Pagan for a walk along the salinas walking and cycling route that runs beside the mud baths.
Visit Cabo de Palos, Punta Brava or any of the other interesting towns and villages on the Mar Menor, end your day at the lively funfair opposite the marina for a great day out.
Take your bikes and start here at the mud baths, cycle out to sea and follow the salinas walking and cycling route around to San Pedro del Pinatar marina, complete this circular route by returning along the cycle path which runs parallel to the sand dunes.
Lo Pagan
Mar Menor – Costa Calida – Murcia – SpainSituation – How to come – Mar Menor – Lo Pagán – Beaches – Curative mud – Visits and excursions – Street Markets – Gastronomy – Popular parties and festivals – Service guide – Accommodation – Photo gallery
Situation
Murcia region is situated at the south-est of the Iberian Peninsula. Mar Menor (Minor Sea) is at the south-est of the Murcia region, where Lo Pagan is located at the north, into the coast of Mar Menor, very close to the Mediterranean Sea. So it is a very privileged place.
How to come
Plain: Corvera Airpot at just 20 km from Lo Pagan (Tel. (+34) 968.240050), or El Altet, Alicante, airport, at 65 km from Lo Pagan (National and International flights, tel. (+34) 96.6919400).
Train: Madrid-Cartagena, leaving in Balsicas, at 10 km from Lo Pagan, or in Cartagena (at the end of the line) at 30 km from Lo Pagan. From the Mediterranean coast: Barcelona-Alicante, at 70 km from Lo Pagan.
Bus: Regular lines with Madrid, Alicante, Murcia and Cartagena, all of them has a stop in Lo Pagan. From Madrid: Madrid-Cartagena-Mar Menor (leaving in Lo Pagan). From Bilbao, San Sebastian, Pamplona, Vitoria and Valencia, with the company Bilman Bus, stopping in San Pedro del Pinatar at 1 km from Lo Pagan.
Car: From Madrid, by A-3 Madrid-Valencia motorway, deviating to Alicante, after, the last 70 km, in the Alicante-Cartagena national road in the coast until reaching Lo Pagan. Other alternative is to leave the motorway in Albacete and go to Murcia (capital) by national road, from there to Lo Pagan by the Murcia-Mar Menor motorway.
From Barcelona by A-7/AP-7 Mediterranean Motorway (Autopista or Autovia del Mediterraneo).
From Basque Country go to Madrid (N-I/A-1 Motorway), and after continue the route from Madrid (described before). From San Sebastian and Pamplona, there is an alternative: Zaragoza-Teruel-Valencia, by national road, this been a shorter alternative, but with the inconvenience of the road.
Mar Menor
Few regions have the fortune to have a salt water lake close to the Mediterranean Sea. This intimate sea, historically know, visited, receive the name of Mar Menor (translating into English, Minor Sea). In its litoral perimeter it has a 73 km coast in what there are transparent water beaches and with little deep waters (the maximum depth is not superior to 7 meters) and with an area of 170 km2, that it place the Mar Menor in the European greatest salt water lake.
Beaches
In the Mar Menor, the beaches of Villananitos and La Curva (formely known as La Puntica), offer low depth waters, like an incentive to take bath or practise any kind of water sport.
The beaches bathed by the Mediterranean are El Mojon and La Llana with 400 and 2,500 meters long respectively.
These beaches are equiped with all the services that garanties the accesibility, confortability and information to the people that use them.Go to start
Curative mud
History
The therapeutic values of mud and clay have been acknowledged since mankind. The Chinese used them for centuries making poultices to heal inflammations. Other cultures within the Indian subculture of South America found that the sand and clay in that area aided rheumatic cases.
Hipocrates (460-337 BC) the father of traditional medicine, recommended their use in many of his treatments and many other doctors of that era, like Empedocles (490-430 BC), Galen, in the Second century, or Paracelso, in the Sixth century, compiled data of the many popular remedies using clay and mud, that apported many of the basic minerals like calcium, magnesium, silica, iron and potassium to the body.
The mud from the Mar Menor
The particular climatic conditions of the Mar Menor, the long hours of sunlight and the high level of salt n the water, have created, in the farth north part of the lake, known as La Puntica, a mud known for its therapeutic value. The last analysis carried out by the University of Murcia in 1995 found that these sediments contain a high percentage of calcium, magnesium, potassium and flouride, as well as chlorine and sulphur. This percentage is far superior to the normal values found in this type of water with such a high level of salinity. The tests also show that there are high levels of fine and very fine sands (slime and clay), the basis of the healing attributes of this mud. The PH varies between 7.12 and 8.45.
Symptons
Use of this mud is recommended in many cases of skin disease, such as abscesses, ulcers, inflammations, sores, and acne, due to its rapid absorption, its mineralising effect and its capacity to neutralise acid as well as the stimulating effect it has on wound healing. A layer of mud applied to the skin absorbs all the conjunctive tissue and eliminates lymphatic toxins from the dermas, acting as a blotting pad for the skin. This mud is also appropiate as an anti-inflammatory in the cases of rheumatism, arthritis, gout and for rehabilitation after a bone fracture. It is also recommended for throat illnesses.
Application
The mud baths can be taken by applying the mud with a spatuta or by hand. It is best to apply the mud initially in small areas and leave on the skin for a maximum of one hour. If no side effects are experienced, you can the increase the amount and the duration of the bath. It is best to apply the mud during the day and in warm weather so that the sun can quickly dry the layer of clay applied. The area should be washed with salt water between each treatment.
Mineromedical waters
The Mar Menor is a lake with a very high level of salt. The characteristics of the water is conditionated by the extreme heat, the wind and above all its connection to the Mediterranean through the fishing canals. The ionic concentrations of magnesium, calcium, sodium, iodine and fluoride are much higher than the amounts found in the Mediterranean. It has been proved that thermal treatments with this type of salt water has an osmotic effect on the interstitial tissue of the human body and increases the activity of the blood circulation. As a result toxins are eliminated and the bodies muscles relax, very good for sufferes of arthritis, rheumatism, tendonitis, nervous diseases and all types of pathologies related to the articulations.
Where these mud baths can be taken
The area traditionally known for its mud baths is the sat flats of La Puntica, in Lo Pagan, in the north corner of the lake, where the lake bed houses a treasure of medical sediments. For those interested in bathing in the salt water of the Mar Menor any area is valid.
Visits y excursions
Lonja del Pescado (Fish Market)
Situated in the explanation of Lo Pagan. It offers the possibility to know the auction sale of fishes newly capturated, although they can be bought directly from fishes.
The access from La Llana beach (Mediterranean Sea) or from the Baño de la Mota or "Los Barros" (Mar Menor) zone. From this place it can be observed the "encañizada" (typical fishing art from Mar Menor) in the natural union of the Mar Menor wih the Mediterranean Sea.
Museo del Mar (Sea Museum)
Located in the Lorenzo Morales street ("Hogar del Pescador", Fishers House building), in San Pedro del Pinatar, it offers collections of: sea-shell, fish denture, mollusc caparison, miniature of typical art from Mar Menor (like the "encañizadas of Punta de Algas), knots, cartografic maps, etc.
Condes de Villar de Felices Palace or "Russian House"
Huge dimension building and palacetic line, it is located into the center of San Pedro del Pinatar. It was built al the end of XIX century assigned by Benifayo Baron, who assigned also to built a similar palace in the Isla Mayor (Major Island) of the Mar Menor.
San Sebastian's House or "Clock's House"
It is modernist style house and was built in the XIX century by the Server-Sporttorno family (very known one in Murcia). It is rounded by a little palm and eucalyptus garden and its name comes from the clock situated in its principal façade. In may 1889, D. Emilio Castelar y Ripoll, Spanish Republic President, died in this house, who used to stay long relax temps in San Pedro del Pinatar.
Fruit trees (Vega Alta and Media del Segura), mountain (Sierra Espuña, magnifically poblated with pines), nearly unknown and very beutiful parts (in the northwest, Caravaca de la Cruz and Moratalla), vineyard lands (Jumilla and Yecla), monumental and historical towns (Lorca, the Sun Town) and other where you can encounter notable muslim influences (Abanilla and Ricote).
In the Costa Calida, it is suggested to do an sea excursion through the Mar Menor, there are several organized tours.
The visit to the capital must include the Fuensanta's Santuary (Santuario de Fuensanta), at five kilometres and where you can observe and splendid panoramic to the Huerta (Market Garden); the Salzillo Museum, musicium whose music murcian people go into procession in Holy Week (Semana Santa); the Cathedral; the Casiono, and the old town.
De Cartagena, el popular barrio de Santa Lucía (según la tradición, en sus playas desembarcó el apostol Santiago); Parque Torres; Museo Arqueológico, riquísimo en fondos romanos; iglesia de la Virgen de la Caridad, patrona de la ciudad, y los monumentos a los Héroes de Cavite y al submarino de Isaac Peral.
Going to Cartagena you must see, the popular suburb of Santa Lucia (according to the tradition, into its beaches the apostle Santiago landed); Torres Park; Archeologic Museum, very rich in roman grounds; Virgen de la Caridad church, town patron, and the monuments to the Heros of Cavite and the Isaac Peral's submarine.
Gastronomy
Like appetizer there are common salted fishes like mojama, mujol and tuna spawn, the tasteful prawns of the Mar Menor, and also sausages.
Caldero rice, made with ñoras, garlic and different varieties fishes, is the most important plate. In the same way there are also important Dorada and Mujol fishes prepared to the salt.
The regional wines are Yecla, Jumillas and Bullas.
Popular parties and festivals

San Pedro del Pinatar and Lo Pagan

January 5, Magic Kings Cavalcade. Landing to Lo Pagan by sea and posterior carriage procession until reaching San Pedro del Pinatar.
February, Carnivals. In the Carnival Sunday the local procession and the next sunday there are the Mar Menor Carnival (each year there are celebrated in a different town of the refion).
Holy Week. Declarated of Tourist Interest since 1993. There are processions in Lo Pagan (Wednesday) and in San Pedro del Pinatar (Sunday, Tuesday, Thursday and Friday, and the next Sunday). Its origin is situated in 1951.
June, Sevillian Feria. Sevillian Houses, live actuations and variated program.
June 24, Saint John (San Juan).
June 29, San Pedro Apostol Patronal Parties. Live music, Animal market (celebrated sinde 1796 and one of the olderst in Spain), and carruages, folkloric actuations, cultural and sport activities, etc.
July 16, Virgen del Carmen Parties. Declarated of Touristic Interest in 1965, and it is celebrated since 1892. coincide with Lo Pagan's Parties.
Christmast, Misa del Gallo (Midnight Mass), several actualtions.
Mar Menor

February, Carnival. The Sunday of Carnival there are celebrated processions into each town and village, election of the Carnival Queens, masc dances, etc. The next Sunday, the macro procession of Carnival with the San Pedro del Pinatar, San Javier and Los Alcazares music companies (rotating a company each year).
San Javier

June 24, Saint John (San Juan) Bonfire.
July and August, Theater Internationd Festival, Music and Dance.
December 3, San Francisco Javier Patronal Parties.
Chirstmast, Nativity Belen of Spain
Santiago de la Ribera

February 3, San Blas Pilgrinage.
July 16, Virgen del Carmen Parties. Maritime Processions.
July 25, Santiago Apostol Patronal Parties
Los Alcazares

August 15, Maritime procession of Asuncion.
Second fornight of August, La Huerta Week.
Octuber 12, Caldero's Day.
Octuber 13, Municipal Autonomy Party.
Los Narejos

December 8, Purísima Patronal Parties.
La Manga del Mar Menor

September 27, Tourism World Day.
Cabo de Palos

Holy Thursday, Fishermen's Procession.
July 16, Virgen del Carmen maritime procession.
August, Virgen de la Asuncion Parties.
La Unión

August, Cante de las Minas Song Festival.
Cartagena

Carnival
Holy Friday, Patronal Parties
Holy Week
June, Cartageneras song National Competition.
July, "La Mar de Músicas" music Festival.
September, "Carthaginesian and Romans" Parties.
November, International Jazz Festival and International Maritime Cinema Week.
Service Guie
Medical Asistence and Social Security
Lo Pagan. Centro de Salud. Edif. Casa del Mar (Explanada). Tel. 968.184728
San Pedro del Pinatar. Centro Médico de Salud. C/ Miguel de Unamuno, 8. Tel. 968.181710 (urgencies y public attention). Tels.: 968.180230 – 968.182062.
Pharmacies
Lo Pagán. Ldo. Muruera Alvarez.. Avda. Gereralísimo, s/n. Tel. 968.182090.
Lo Pagán. Lda. Munuera González. C/ General Casola, 9. Tel. 968.180893.
San Pedro del Pinatar. Ldo. Lorente Tortosa. Avda. del Taibilla, s/n. Tel. 968.185870.
San Pedro del Pinatar. Ldo. Muruera Martínez. C/ Dr. Ferrero Velasco, 2. Tel. 968.180678.
San Pedro del Pinatar. Lda. González Pomares. C/ Emilio Castelar, 57. Tel. 968.183793.
Travel agencies
San Pedro del Pinatar. Nilo-Tour. C/ Alimirante Guitan Vietio, 14. Tel. 968.182415.
San Pedro del Pinatar. Viajes Pinatar I. C/ Emilio Castelar, 82. Tel. 968.186035 – 968.186174.
San Pedro del Pinatar. Viajes Pinatar II. C/ Emilio Castelar, 40. Tel. 968.184328 – Fax 968.183603.
Real Estate:
San Javier airport flights
Information y reservations IBERIA. Tel. 968.172045 – 902.400500 (24 hours).
Charter flights SERVISAIR. Tel. 968.170222 – 909.610744.
Rent-a-car
San Pedro del Pinatar. Rent-Menor. Avda. Dr. Artero Guirao, 232. Tel. 968.182410 – 908.044894
Taxi stops
Lo Pagán. Avda. Generalísimo (Explanada de la Feria).
San Pedro del Pinatar. C/ Victor Pradera (junto Ayuntamiento). Tel. 968.181760.
Radio Taxi. 968.180808 – 968.186996.
Public Library
Lo Pagán. Parque de los Reyes de España (edificio Casa del Mar).
San Pedro del Pinatar. C/ Alcalde Julio Albaladejo, 16 (edificio Casa de Cultura). Tel. 968.182575.
Interest telephones
Airport San Javier (Murcia's airport). 968.172900.
San Pedro del Pinatar Town Hall. 968.180600.
Fire-brigade (Los Alcázares). 968.171302.
Casa de la Juventud (Youth House). 968.184352.
Medical Center (Lo Pagán). 968.184728.
Medical Center (San Pedro del Pinatar). 968.181710.
Post Office. 968.180751.
Fishermen House (Cofradia de Pescadores). 968.181920.
Cruz Roja (Red Cross – ambulancies). 968.187718.
Train Station Balsicas. Mar Menor. 968.580052.
Bus/Coach Station Cartagena. 968.505656.
Bus/Coach Stación San Pedro. 968.182942.
Canoesism Public School. 968.187260.
Guardia Civil (Police). 968.180610.
Los Arcos Hospital (La Ribera). 968.570050.
Mar Menor Ocanografic Institute. 968.180511.
Sea Museum (Museo del Mar). 968.181920.
Tourist Office. 968.182301.
Local Police. 968.188092.
Public Polisportive. 968.185480.
Public Swimming Pool. 968.183765.
Radio Pinatar 87,9 FM. 968.187620.