Your Key holding company in Torre Pacheco Costa Calida
If you are looking for a professional company offering trustworthy key holding services in Costa Calida, Murcia, Spanish Best Homes is your agency.
We are professionals, a property company, registered limited society and 20 years of experience offering key holding services in the whole of Costa Calida.
If you want to know more about costs involved, all depending on the demanded services, please contact us and our staff will get back to you asap.
Land Line: 0034 968 80 84 25.
E.mail: keyholding@spanishbest.com
Whatsapp: 0034 648 504 971
Spanish Best Homes 2010, s.l.

https://www.spanishbest.com
Home
José A. Polo
International Sales
0034 648 504 971Spanish Best Homes
Office: Es/Eng/Fr 0034 968 80 84 25 Nederlands/Deutsch 0034 868 17 78 70 Head office:C/ Lilo, 55, Mar Menor Golf Resort
La Goleta – Torre-Pacheco – 30700
Murciahttps://www.google.es/maps/@37.737968,-0.9133055,3a,75y,351.34h,96.81t/data=!3m6!1e1!3m4!1sE7032M0-D1O8J4YsdaFNJQ!2e0!7i13312!8i6656
Torre de la Horadada is a coastal resort located on the Southern Costa Blanca with some fine sandy beaches which are ideal for families with children who have come to spend their summer holidays.
There are two airports close to Torre de la Horadada which are Alicante and Murcia.
Once at the airport you have a range of different airport transfer options to Torre de la Horadada including private shuttle buses, taxis or car hire.
Torre de la Horadada
In this tourist guide to the tourist resort of Torre de la Horadada on the Orihuela Costa on the Costa Blanca in Spain we help visitors who are planning a trip with useful and practical advice on many tourism related subjects such as car hire, accommodation, hotels, hostels, map, sightseeing, where to go, where to stay, travel information and what to see and do in Torre de la Horadada.
Torre de la Horadada is your typical Spanish sea side resort with villas, townhouses and apartments located on urbanisations, purpose built for people to buy their second homes to contribute to the tourist industry and Spanish economy. You can always find a property to buy or rent on a long term basis or by the week, during peak times.
Map – Where is Torre de la Horadada?
Torre de la Horadada came to be is a natural offshoot to the sprawling resort of neighbouring Pilar de la Horadada. Torre de la Horadada lies to the north of the Mar Menor, and is also close to Torrevieja, La Zenia, Mil Palmeras, Cabo Roig, Campoamor, Playa Flamenca and Punta Prima. If you have hired a car then you can visit many different beach resorts and make the most of the beach life on the Southern Costa Blanca.
Sights & Attractions
Although one of the lesser known of the Costa Blanca's seaside resorts, Torre de la Horadada is also one of the prettiest of the southern resorts with attractive coastline and seafront walks as well as a charismatic watch tower dating from the time when pirates sailed these seas, numerous sandy beaches, sunny weather and a delightful marina with plenty of mooring space.
Despite the age of its tower, Torre de la Horadada has mostly developed during recent times, with the demand for coastal holiday homes growing and it really acts as the coastal arm of nearby Pilar de la Horadada, which as a town is set inland from the coast.
Very close to the border of Alicante and Murcia, Torre de la Horadada together with Pilar de la Horadada and El Mojon is one of the Costa Blanca's southernmost resorts, head any further south and you will find yourself on the Costa Calida and the resorts of the Mar Menor, a little further and you will reach the city of Cartagena with its ancient Roman and Carthaginian ruins.
Torre de la Horadada is essentially a small Spanish town without the tall buildings filled with apartments which cover much of the Costa Blanca.
The Old Town has a square and a church. You will find there is a chemist, bank, three supermarkets and a good selection of restaurants offering tapas, Spanish food, sea food and some international cuisine.
Golf
Keen golfers will find there are quite a few famous and popular golf courses in the area including Las Ramblas, Villamrartin, Campoamor, Campoverde and Lo Romero.
Weather
Torre de la Horadada weather has a Mediterranean climate meaning that there are three hundred days of sunshine annually, a guarantee of no rain in the summer months, and mild winters with a little rainfall.Weather Forecast | Weather Maps | Weather Radar
Beaches
The beach at Torre de la Horadada you will find all the amenities of a first class sea side resort with sun loungers and parasols for hire, a play area for children, foot showers and WC.
The video below shows you the main sights and beaches:
Getting There – Transfers
Torre de la Horadada is a great place for a holiday or a last-minute weekend break. Most visitors to Torre de la Horadada Spain will no doubt be arriving at Alicante Airport (or maybe Murcia San Javier airport) – so having arrived at Alicante airport how do you get to Torre de la Horadada and how do you find the cheapest way of getting to your Torre de la Horadada accommodation from Alicante Airport?
Here we answer your frequently asked questions:
How much is the taxi fare from Torre de la Horadada to Valencia?
Are there coach transfers from Alicante to Torre de la Horadada?
What is the nearest Torre de la Horadada airport?
Alicante to Torre de la Horadada transfers
Is there a bus from Alicante airport to Torre de la Horadada?
Getting to Torre de la Horadada from Alicante airport?
Is there a bus from Murcia airport to Torre de la Horadada?
How much is a shuttle Alicante airport to Torre de la Horadada?
Torre de la Horadada Spain nearest airport?
How much by bus from Alicante airport to Torre de la Horadada?
Torre de la Horadada to Alicante how far?
Bus from Torre de la Horadada to Valencia?
Can I get a transfer direct to Torre de la Horadada from Alicante airport?
How long will it take to travel from Alicante airport to Torre de la Horadada?
How to get from Murcia airport to Torre de la Horadada?
Is there a train from Alicante to Torre de la Horadada?
The nearest Torre de la Horadada airport is Alicante airport but also San Javier Murcia Airport is not too much further to the south of Alicante airport and it now has many cheap flights as Ryanair fly there (amongst others).
If car hire isn't for you then you will have to look for other means to reach your holiday resort. The Costa Blanca is known not to have much of a transport service, meaning there is a lack of buses or trains conveniently linking Murcia with Torre de la Horadada or Alicante with Torre de la Horadada.
This can prove to be a problem for those people who have booked an apartment or villa but there are always other options.
Well there are three main ways of airport transfers from Alicante to Torre de la Horadada:
Taxi to Torre de la Horadada. Taxi fares which are the simplest but most expensive can cost around €90 for driving you from Alicante to Torre de la Horadada. One just has to remember that you will be paying that again on your day of departure.
Getting a taxi from Alicante airport to Torre de la Horadada is a good option because there are unlimited airport taxis at all times of the day (and night) directly outside the doors of the arrivals terminal at Alicante airport.
You won't have to wait around as you would with a bus and it will take you directly outside your hotel, villa or apartment in Torre de la Horadada.
Private Shuttle to Torre de la Horadada
Shuttle transfers are becoming more popular especially if once you are at the resort you can walk anywhere and everywhere and there is no reason to leave the resort as the beaches and infrastructure are that fabulous. Of course you will have to compare companies and rates but as a guide you can expect to pay around £66 pounds sterling for a family of four with all of their luggage for a return transfer from Alicante to Torre de la Horadada.
Pre-booking a private shuttle bus from Alicante airport to Torre de la Horadada will get you a much cheaper rate than taking a taxi on arrival. As with a taxi, a private shuttle takes you directly to your Torre de la Horadada hotel or apartments in Torre de la Horadada. The size of vehicle varies from small mini-buses to coach transfers to Torre de la Horadada.
If however the shuttle is shared by many other passengers going to Torre de la Horadada hotels, it may not be as quick or direct as a taxi. A company called Shuttledirect.com are very reputable and cheap.
Torre de la Horadada Car Hire
Hiring a car from Alicante airport to get you to Torre de la Horadada is a great idea if you also want to explore the fantastic Costa Blanca area of Spain. Car hire from Alicante airport is very cheap so it could be a good option even if you don't intend to use the car much.
Torre de la Horadada is very much a compact beach resort with usually plenty of bars, restaurants and beaches within walking distance, so unless you want to go on a number of excursions you probably don't need to consider taking out Torre de la Horadada car hire.
Real Estate Agents
Whether you're looking for a place to rent or to stay at permanently, you can take advantage of the services from the real estate agents in Torre de la Horadada who are more than willing to help you in finding your ideal residence.
You can contact Spanish Best Homes: www.spanishbest.com
0034 968 80 84 25
It is the relaxing, magnificent blue flag beaches, not overcrowded even in the summer, all sort of services and only 10 minutes from the airport.
How much are typical property prices in Torre de la Horadada for apartments, villas etc?
You can find 1 bedroom properties from 75,000 euros, 2 bedroom properties for around 100,000 euros, 3 bedroom apartments and town house from 125,000 euros and finally villas from 200.000 €.
Eating, buying and leisure
Firstly, if you need to buy a lot of things, either for a barbecue or a picnic, you have to go to Dialprix (which used to be Super Valu), located at the entrance of Torre de la Horadada.
On the other hand, if you want to eat out, most restaurants and ice cream shops are located in Plaza del Pueblo Latino and the square near the Port.
The Plaza del Pueblo Latino is also a small shopping arcade which consists of bars, bakeries, ice cream parlours and two mini supermarkets. In the centre, there is a mini square with benches and water fountains, giving a nice touch to the area.
On the other hand, the other square is a few meters from the Pueblo Latino, which is a lot bigger. It is located right between the Church of the Assumption and the watchtower and the Port. The highlight of the square is the terraced restaurants which are always full of people, especially 'Guiri's (even in winter). There is a road that runs along one side of the square, but in general it is pedestrianised. In the centre of the square, there are benches, trees and a water fountain. There are also little horses for children, and in summer, a waffle and crepe stand which normally always has a queue.
In one of the streets that goes from the square to the beach, there are two ice cream parlours and Bar Willy. The Galán ice cream parlour is the most famous in the town, thanks to its unique flavours, I would recommend the cookie ice-cream or the chocolate crepe ice-cream. Right next door is an Alicante ice cream shop, and I always get the nougat ice-cream because it is so yummy!
The two ice cream parlours have terraces that extend onto the promenade, boasting great views of the beach, the port and the lookout tower. So I recommend you go there for a beer and some 'patatas' in the afternoon, or during the evening for a good ice cream and milkshake, I love it. Although there are times when the tables are full and have to wait or take the ice cream away; another option is that you sit on the banks of the promenade with your ice cream or eat it whilst walking… but you save some money taking it away rather than sitting at the parlour.
From there, you can turn right and walk right along the promenade which is really nice. There are benches to sit every few meters and some sweet and ice cream stalls. During the night, it is usually full of teenagers.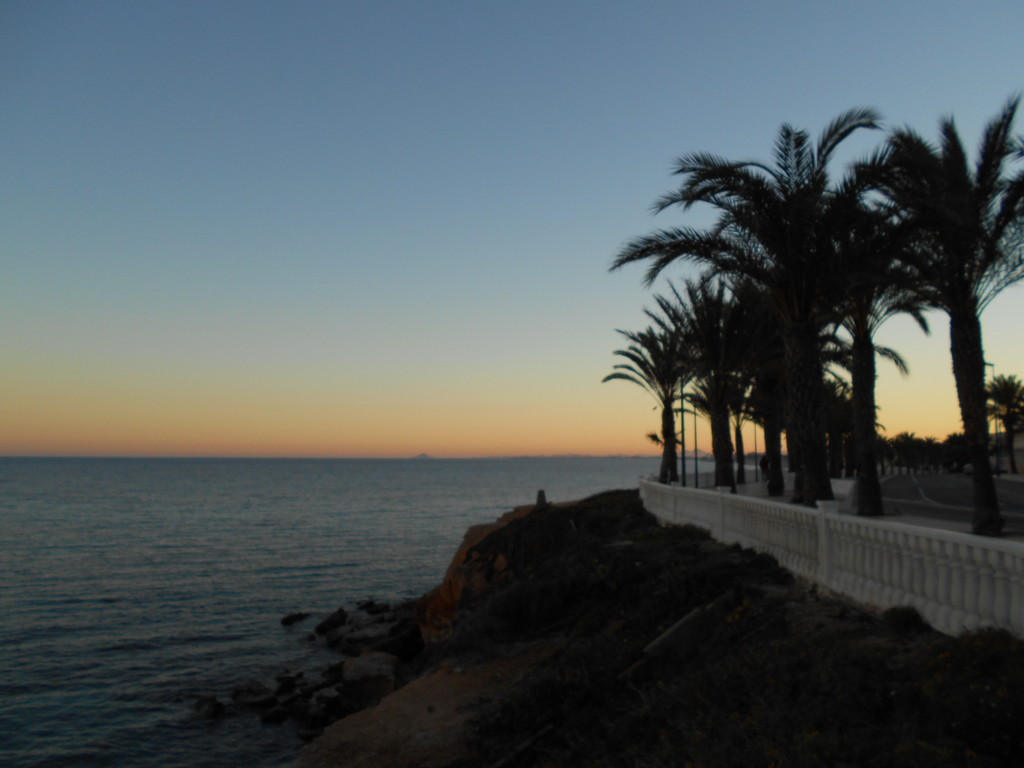 With regard to other leisure activites, I know that they are two summer cinemas, one in Las Villas and the other just next to the Plaza. They are only in use in July and August.
Beaches of La Torre de la Horadada
To me, La Torre de la Horadada is one beach, which is split up into smaller beaches. Going from left to right, here are the names of the beaches.
Playa del Gato: this is just down from Plaza del Pueblo Latino. It is divided into two parts, but it is not very wide. It has a beach bar too. It was at first the most popular beach but it has since been beaten by Playa del Conde.
Playa de los Jesuitas: this beach is definitely for younger people. During summer afternoons, groups of teenagers and young people get together here, especially to play volleyball there. It also has a beach bar and you can hire scooters from here, if I'm right, I think they cost 15 euros for half an hour/one hour. It is one of my favourite beaches, but sometimes there are too many people there.
Playa del Conde: this is the beach I like the most at the minute. It is a large cove, situated below the tower. It has a beach bar and there is a rocky patch on the sea front which is popular with small children to catch small crabs. People who stand on these rocks look like they are walking on the sea, it has always made me laugh! Right next to here, there is a mini beach but there is nothing to do there so I don't like it that much.
Playa del Puerto: as its name indicates, this beach is located next to the port. The beach is big, and not too busy. It has a play area for children and they have football competitions there in the summer. What stands out is the patch of rocks which are located right at the start of the beach, some are painted in different colours which gives a picturesque touch to the panorama of this beach.
Playa de las Villas: it is located in the las Villas area but I don't know anything else about it.
Playa de las Higuericas: this is the longest and widest beach. usually, not many people go there because it is the furthest away from the centre of the town. But I recommend you go there for a walk at sunset, it is quite beautiful and quieter than the centre of town.
As a coastal town it has experienced a great deal of its fortune thanks to tourism and boasts various prestigious blue flag beaches, the most popular being Los Jesuitas, El Conde, and El Puerto. These local beaches are well known for their fine sand and crystal waters. Its popularity during the busy summer months means that the town's population can quadruple in size with many visitors coming from other parts of Spain, mainly Madrid and Murcia to enjoy their summer residences.In recent years Torre de la Horadada has become the home to many expatriate residents form northern Europe, mainly from the UK and Ireland. This has led to the all year round sustainability of the town, which has resulted in the advent of new local business and amenities such as supermarkets, bars, restaurants and the construction of a new, and modern tourism complex Lo Monte.During the Spanish boom years of the first decade of the 21st century Torre like many other Spanish coastal towns saw an increase in the construction of homes, however in contrast to most other local towns this expansion was characterized for being steady and controlled which has safeguarded its appearance and the wellbeing of its residents. As a result, Torre has bucked the national trend for the demand of housing and still continues to have a number of construction projects currently in place, and although house prices have significantly reduced compared to the boom years they still favor considerably in relation to the national trend.
Spanish Best Homes offers a great range of properties for sale in Torre de la Horadada together with a friendly staff with great knowledge of the area.
Make an appointment with us and we will assist you personally:
The Mar Menor Golf Resort was the first Polaris World resort to be opened in 2005, and is located between the Mar Menor, Murcia to the north and Cartagena to the south, all of them within easy driving reach. Situated around the 18-hole golf course, landscaped gardens and various on site facilities are 924 villas, 184 townhouses and 1,150 apartments, all designed by acclaimed architect Melvin Villarroel, as well as a 5-star hotel with spa facilities.
The resort is clean, well organized and meticulously maintained, both on the golf course and in the residential areas. Wide streets and plenty of open spaces give it a relaxed and healthy feel, and in the summer there are plenty of residents and visitors contributing to a warm and friendly atmosphere throughout the 370 acres of the development. Cyclists and joggers enjoy the chance to exercise in the secure surroundings, and there are numerous venues for a relaxing drink or a bite to eat.
Although there are not many street maps to be seen it is fairly easy to find your way around once you get your bearings, and far easier on foot or by bike than in the car!
Sports facilities at the Mar Menor golf resort include communal pools, tennis and paddle-tennis courts and a small gym on the first floor of the commercial centre. The Hotel on the other side of the road offers further sports facilities with its spa and swimming pool.
The clubhouse, which is next to the hotel, offers a number of on-site facilities including a café bar with terrace overlooking the green and additional services such as changing rooms, locker, sauna and pros shop where
you can book your golf and hire golfing equipment together with booking professional teaching. All club house services are available to residents and golf visitors alike.
The on-site shopping centre includes a café bar which offers regular social events and meetings for the residents, a residents' gym, a small supermarket with a good range of foods and a bank with cash point services. The resort centre also houses a solicitors' office with responsibilities for the resort's management.
If you are thinking on coming to the resort apart from the hotel there are plenty of rental properties available which variate from apartments, townhouses to beautiful individual family villas.
– There is a good number of properties for sale, bank repossessions, resales or new contemporanean homes:
At the entrance of the Golf Resort, you can find Spanish Best Homes Real Estate, locally based, which staff being in the property market since 1998, can be of help, with a fresh and honest approach.
You can contact the multilingual team on 0034 968 80 84 25 and meet them at their office in:
Head office:C/ Lilo, 55, Mar Menor Golf Resort
La Goleta – Torre-Pacheco – 30700
Murciahttps://www.google.es/maps/@37.737968,-0.9133055,3a,75y,351.34h,96.81t/data=!3m6!1e1!3m4!1sE7032M0-D1O8J4YsdaFNJQ!2e0!7i13312!8i6656
www.spanishbest.com
you can follow them on facebook:
https://www.facebook.com/spanishbesthomes
whatsapp contact: 0034648504971
Just outside the gates of the resort is the area known as the The Boulevard which offers commercial units and a choice of alternative restaurants are already in place adding to the variety of choice and facilities.
Nearby are the blue seas and many beaches of the Mar Menor and La Manga on the other side of the natural lagoon. This is an ideal location for water sports and sailing activities, and in Los Alcázares there are numerous restaurants, supermarkets and a wide choice of services and facilities.
There are also extensive shopping and restaurant facilities in the historic city of Cartagena as well as a full agenda of cultural events and entertainment.
Information about the Golf Course from Mar Menor Golf site:
The Mar Menor Golf course is situated near the town of Torre Pacheco in Murcia. It is 5 km from the Mar Menor, a vast inland sea, from where it gets its name. It is framed by a stunning mountain backdrop, and is located on the site of a former citrus orchard.
It covers approximately 59 hectares and its maximum length of 6,153 metres is quite demanding. The green or play area covers a total of 45 hectares, with a variety of plants indigenous to the area covering the rest of the course.
The front nine of the Mar Menor Golf Course, designed by David Thomas, is par 37 with the long tees totalling 3,275 metres. The greens, with hardly any rough, are well protected by bunkers and the surrounding lakes.
The back nine, designed by Nicklaus Design, are par 35 with the long tees totalling 2,878 metres, this section offers wide fairways and roughs for big strokes. Especially noteworthy is the spectacular lake around holes 12, 14 and 15, which creates the largest obstacle to overcome. The rest of the holes are protected by strategic bunkers
The clubhouse is located at the 5* Intercontinental Mar Menor Golf Resort & Spa, where you can enjoy all the amenities needed make your golf here unforgettable.
Superb facilities include
Driving range (either grass or mats)
Large putting green
Brand New chipping green
An extra hole – a great Par 4 with pitching area, chippping areas, bunker area and perfect for Course Management Strategy.
Buggies and electrical & manual trolleys.
Club Hire
Pro shop
Other facilities on site include
Golf school
Dressing rooms
Club House
Bar/Restaurant
Sauna & Spa
Heated swimming pool